Elina    
Kilpiö
Cooperation achieves more:
A new model for public libraries and Accessibility Library Celia
​​​​​​​

Why the cooperation began
Accessibility Library Celia's mission as a government agency is to produce and distribute literature in an accessible format to persons with print disabilities.
In the previous service model, libraries just directed patrons with print disabilities to Celia, and Celia took care of them alone.
With this service model, despite decades of work, Celia was able to reach less than 10% of the estimated demographic with a print disability (5% of the population).
We wanted to reach more people who are entitled to the service!
We wanted to support libraries to also serve patrons with a print disability!
Achievements

Now we have worked together for several years and the results are visible: in June 2023, already 23.8% of persons with a print disability were reached (about 5% of the population).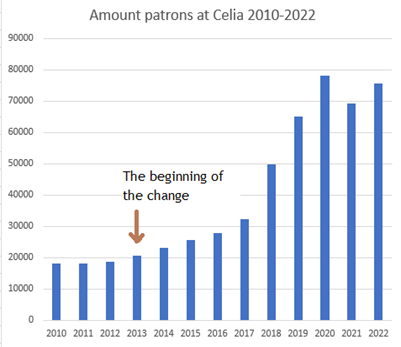 Contributing factors
According to Finnish law, every municipality must provide library services: a nationwide network and trained staff to contact.
A similar service model: the services of both public libraries and Celia are free of charge for patrons.
Materials are distributed online: good availability of the material all the time, no matter how vast the audience is.
Building the cooperation
At the beginning of cooperation, a common goal must be identified. Both Celia and libraries had a common goal to promote the use and reading of literature.
Division of duties
The library adds patrons to Celia's services and provides guidance to users.
Celia stands for the register, library collection and delivery. Celia supports libraries in the form of helpdesk, brochures, trainings etc.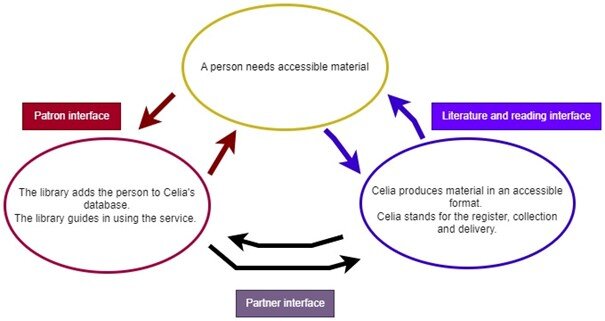 Maintenance
A network of about 30 people from all over the country has been assembled.
Celia arranges meetings for this group to get to know each other and keep in touch directly.
Campaigns, change-related testing, etc. are carried out together with this group.
Remote meetings open to everyone and 4 newsletters during the year.
Impacts
The cooperation has made possible changes which Celia could not have implemented alone.
Compared to before, many times as many people have found ways to read that are suitable for them.
Now libraries serve people with reading disabilities just like they serve anybody else. Jaana's article about Library 65 shows the implementation very well.